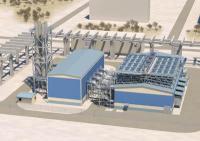 Wärtsilä will supply a 40 MW Smart Power Generation power plant for LLP KazAzot in Kazakhstan. The plant will provide electricity and steam for process industry near the city of Aktau. It is scheduled to be operational in late 2016.
"A steady and reliable flow of power is essential for our processes, and this is something Wärtsilä is able to provide. The solution also improves significantly our energy efficiency, reducing costs and improving our competitiveness. Also, Wärtsilä's unique capability to extend the scope of supply to include both the steam cogeneration plant and the civil materials were important factors influencing our choice", said Kinis Urakov, CEO of LLP KazAzot. The facility produces products for agriculture and mining.
The extended equipment delivery includes four Wärtsilä 34SG engines running on natural gas, cogeneration units for steam generation, mechanical and electrical accessories balance of plant, as well as civil materials supply.
"We have experienced rapid growth in our sales to the CIS countries (Commonwealth of Independent States) over the past decade, especially in the industrial sector. Our strong track record, efficient and reliable technology, and local customer support have been our key to success," said Alf Doktar, Regional Director at Wärtsilä Energy Solutions.