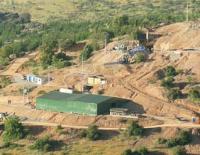 Following the completion of the acquisition of Chepica on 24 February 2014, the strategy of the management of Xtract has been to target on and off reef development to open more areas to mine. Accordingly, the team at the mine has increased the total development rate from 40m per month to 300m per month.
This strategy has resulted in greater flexibility in achieving both a better mining mix and an improved recovered concentrate grade. Volumes have also improved as a result of the increase in mining areas.
Chepica was previously operating from two mines, Chepica North and Salvadori. Following a review of the operation by management, Xtract has now extended the project area to four mines, being Chepica North and Central, Salvadori, Colin and Nelson. By opening up these new areas, the team is in the process of further increasing production volume, achieving an uplift from 5,000 to 10,000 tonnes per month, whilst at the same time improving the concentrate gold grade from 40-50g/t to 60-70g/t. Further, Xtract will invest approximately US$250,000 in the plant to increase milling capacity and throughput.
In addition, following the increased development work and the drilling programme which have been carried out over the past month, Xtract has now opened up a new payzone which is currently running at 70-80 g/t.
Chepica is now on course to become profitable in the second quarter of 2014.