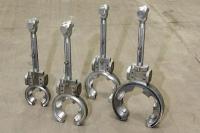 Concentric Pipe and Tool Rentals has developed the Superior Safety Wrench System (SSWS), a next generation tool to eliminate the use of sledge hammers in the make up and break out of high pressure, temporary flowline connections.
Concentric, a Superior Energy Services company, designed the SSWS for land and offshore operations. The tool is composed of two main parts: a heavy-duty aluminum, wrench-style head and a quick-latch, adjustable torque-assist device. Extensive, external field tests were conducted on 2" – 4" unions, and the SSWS passed all tests.
The wrench-head adjusts from 1" – 4", creating an even distribution of impact load on all three union lugs. The wrench head adapts to all disfigured hammer unions. The design of the handle provides a quick-latch feature extending 14" – 22" in length. Its even distribution of torque allows the union to contact the seal evenly without compressing or compromising the seal.