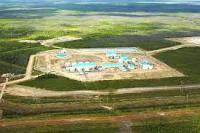 Connacher Oil and Gas Limited says that Brent de Jong, currently Chairman and a director of Connacher, has been appointed Interim Chief Executive Officer, replacing Christopher Bloomer who resigned as Chief Executive Officer and a director of Connacher. Connacher wishes to thank Mr. Bloomer for his significant contributions to the Company and wishes him the very best in his future endeavours.
Mr. de Jong has extensive leadership and strategic advisory experience, which he carries out through De Jong Capital. He is currently on the board of RA Holdco, f.k.a. Arcapita, a Middle Eastern investment manager with holdings throughout Asia, the Middle East, Europe, and the United States and GB Minerals Limited, a phosphate mine in West Africa. Mr. de Jong founded De Jong Capital after leaving Ashmore Investment Management Ltd., an emerging market fund manager with $65.0 billion of assets under management in 2011.
While at Ashmore (2002-2011) where he was head of special situations and infrastructure investments and served on the firm's five person investment committee. Mr. de Jong was seconded to AEI in 2006 where he served as Chief Executive Officer and Vice Chairman of the Board of Directors. Mr. de Jong led the consortium of shareholders that founded AEI in 2005 and negotiated the break up and sale of AEI's assets in 2011 for an aggregate price of $4.8 billion.