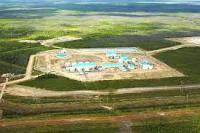 Connacher Oil and Gas Limited says that Merle Johnson, formerly Connacher's Chief Operating Officer, has been appointed Chief Executive Officer and a director of Connacher, replacing Brent de Jong who was formerly Interim Chief Executive Officer and Chairman of the Board of Connacher.
Mr. Johnson has 19 years of combined experience in conventional oil and gas, thermal oil and mining. He has been integrally involved in the growth of Connacher from an oil sands start-up company to an approximately 14,500 barrel per day SAGD producer.
Mr. Johnson joined Connacher in June of 2007 during the construction of Connacher's first SAGD bitumen project at Pod One. He was promoted to Vice President in 2009 and to Chief Operating Officer in 2012. He has been responsible for all aspects of the Company's operations, including project management, production, drilling and research and development.