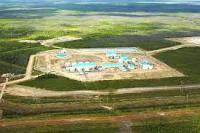 Connacher Oil and Gas Limited has lost a great friend and leader. Colin Evans, Connacher's Board Chairman, passed away yesterday. Colin was appointed to Connacher's Board in April 2004 and became the Chairman in May 2012. He was an ardent supporter of the Company.
In 2012 through April 2013, he also acted as co-managing director, guiding the Company through the disposition of its refining and conventional exploration assets and reconstituting the Company's management team.
These transactions enabled the Company to continue its oil sands business and achieve record levels of production. Colin was also instrumental in helping the Company through its recent financial restructuring. He was a mentor to many in the organization and a positive influence in the Company. He will be greatly missed by all. We extend our condolences to Colin's family and wish them well in a difficult time.