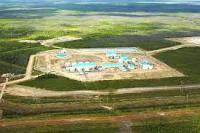 Connacher Oil and Gas Limited provides the following operational update for the fourth quarter 2013 ("Q4 2013"). All production related results disclosed herein are based on field estimates.
Production and Operations
Connacher's Great Divide production for Q4 2013 averaged 11,400 bbl/d. Production was 3% lower than the prior quarter (Q3 2013 11,788 bbl/d). Production in late November and early December was negatively impacted by a temporary reduction in natural gas supply in northern Alberta necessitating a turndown in steam generation, primarily at Algar. Preventative maintenance was advanced and performed during this period and also reduced production.