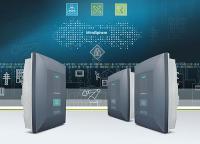 With the launch of new firmware release V3, the Simatic RF600 RFID system now supports the open interface OPC UA. The new firmware allows devices to be connected to the cloud-based open Internet of Things (IoT) operating system MindSphere – for instance over the industrial IoT gateway Ruggedcom RX1400 with MindConnect or with the cloud gateway MindConnect Nano. Simatic RF600 acts as a link between the real and digital world and it´s the first RFID system that supplies data to MindSphere.
Its platform-independent interface enables seamless communication with products and software which supports OPC UA. Project engineering takes place via a web interface in the browser. Fields of application include production, logistics and asset management. As a key standard on the way towards digitalisation, OPC UA offers high performance and proven security mechanisms, and is considered by Siemens as a crucial element of any complete solution from the sensor through to the cloud.
Linking the RFID system Simatic RF600 to the cloud opens up exciting new scope for the use of data captured from RFID transponders – such as the registration and tracking of containers, pallets or products fitted with an RFID transponder.
The captured data can be analysed and made available worldwide due to the web-based concept, creating transparency in terms of key performance indicators (KPIs) such as plant availability, utilisation of assets or energy-saving potential. Using the MindSphere app concept, customers can be given access to a wide range of information such as RFID-based KPIs. This will allow the targeted optimisation of production processes and supply chains with a view to improving efficiency and quality in production, logistics, asset management and other areas.
As the basis for applications and data-based Siemens services for the fields of predictive maintenance and energy data, asset and supply chain management, Simatic RF600 and MindSphere are significant components for digitalisation.