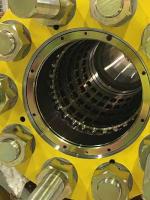 Subsea connector specialist Hydratight has been awarded the supply of the critical tie in components for the 8-, 12- and 26-inch pipelines within the Maersk Oil Tyra Field.
In the initial phase of the redevelopment of the Tyra field, a bypass route needs to be created to enable production flow from other Danish Underground Consortium (DUC) assets. The Hydratight MORGRIP Mechanical Connectors will provide the critical connections between the new bypass and the existing infrastructure.
James Rowley, Global Subsea Market Development Manager, Hydratight, says, "Our connectors are increasingly in demand by operators for key life extension projects as they are well qualified, field proven, permanent repair solutions. Our DNV Type Approval offers the highest quality assurance with no requirements for project specific testing – reducing both risk and price."
Hydratight's connectors replace the need for the welding of subsea pipelines and topside piping in offshore oil and gas, and petrochemical applications.
"Each MORGRIP Mechanical Connector is tailored to the specific application and repair location. We take all the project and application variables – materials, wall thickness, corrosion patterns, pressures, temperatures, design codes – and model the best-case and worst-case scenarios for the pipe condition. We then design and test the connector to those scenarios, providing full assurance to the client that the products are fit for purpose."