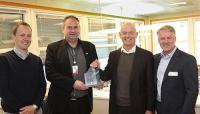 In 2015, ConocoPhillips started a new program to recognise suppliers across the global operation that have made a real impact on ConocoPhillips business and honour them for exhibiting exceptional leadership that compliments and aligns with ConocoPhillips SPIRIT values. The awards are being given in two categories that reflect ConocoPhillips goals and priorities focus on "business execution" and "doing business better". Suppliers are nominated by ConocoPhillips business units around the globe and winners are chosen by a cross-functional panel of ConocoPhillips senior leadership.
ConocoPhillips has recognised IKM Testing for our focus on "business execution" and has announced IKM Testing as winner of a 2016 Supplier Recognition Award.
IKM Testing AS played a critical role in Ekofisk shutdown project in 2016, providing special cleaning and nitrogen helium leak testing services of more than 3,000 connections and flanges. They delivered this challenging scope on time, on budget, and with zero HSE incidents. They also influenced ConocoPhillips to implement new ways of working that saved a significant amount of time and will be applied in future shutdowns.
ConocoPhillips management visited IKM Testing and handed personally the statuette to Ståle Kyllingstad (CEO) and Vidar Haugland (Vice President).
"This is a great honour for us. We are proud and very grateful to receive the award. We have shown that large, complex assignments can be carried out efficiently and cost-efficient without compromising safety and HSE. Good and effective solutions were obtained through close cooperation with the customer in the planning phase," says Vidar Haugland.
IKM Testing performed many hours of operations on 14 platforms on the Ekofisk and Eldfisk field in a busy shutdown period in the summer of 2016. Start-up of production was carried out without any leaks.