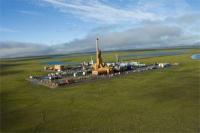 ConocoPhillips held its Annual Meeting of Stockholders where it reaffirmed its goal to deliver double-digit annual returns to shareholders.
"ConocoPhillips is set for growth," said Chairman and Chief Executive Officer Ryan Lance. "Our goal is to deliver 3 to 5 percent growth in both volumes and margins, with a compelling dividend. We believe there is clear demand for this kind of energy stock."
At the meeting, the company highlighted several key accomplishments in its first two years as an E&P company. These include: generating proceeds of $12.4 billion from the sale of non-core assets; delivering several major project startups; ramping up development drilling programs, primarily in the unconventionals; participating in four deepwater Gulf of Mexico exploration successes; and achieving a two-year average of 167 percent organic reserve replacement ratio. The company also raised its dividend in 2013 and remains committed to increases over time.