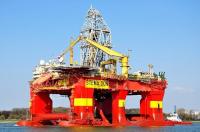 The Petroleum Safety Authority Norway (PSA)  has given Statoil consent to use the Stena Don mobile drilling facility for drilling, completion, intervention work, and plugging on the Troll field.
Stena Don is operated by Stena Drilling, and is a Sonat/Hitachi-designed, semi-submersible drilling facility, built in 2001. The facility received Acknowledgement of Compliance (AoC) in March 2002.
The PSA has now given Statoil consent for drilling operations in accordance with the company's application.