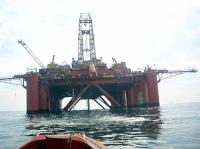 The Norwegian Petroleum Safety Authority has granted Wintershall consent to drill an exploration well in block 35/11.
Wintershall Norge AS (Wintershall) is the operator for production licence 248 in the North Sea. The well will be drilled in a prospect named Orion, with the designation 35/11-19S, which is located approximately 98 kilometres west-south-west of Florø. Water depth at the site is 379 metres.
The drilling will start in mid-May at the earliest, with an estimated duration of between 47 and 134 days. The duration will depend on whether a discovery is made, which in turn will entail drilling sidetrack wells.
The well will be drilled by Borgland Dolphin, which is a semi-submersible mobile drilling facility of the Aker H-3 type. The facility is owned by Fred. Olsen Energy ASA and operated by Dolphin Drilling AS. It was built as a flotel in 1977 and refitted/upgraded into a drilling facility in 1999.
Borgland Dolphin was issued with an Acknowledgement of Compliance (AOC) by the PSA in September 2004.