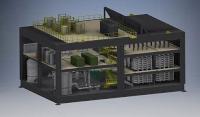 Marking a commercial milestone in process water treatment for the offshore oil and gas industry, Norwegian oil and gas company Statoil has selected a consortium led by GE Water & Process Technologies and Halvorsen TEC to supply a complete seawater sulphate removal unit (SRU) to help protect production wells in Statoil's Johan Castberg project in the Barents Sea, off Norway. The Johan Castberg (formerly Skrugard) project is situated about 100 kilometres north of the Snøhvit field in the Barents Sea.
Engineers from GE Water & Process Technologies and Halvorsen TEC are responsible for front-end engineering design (FEED) work in close cooperation with Aker Solutions and Statoil. Work is expected to go out in 2017, when the final investment decision for the project is planned to be carried out. This is GE's first order of its seawater sulphate removal technology for the offshore oil and gas industry and the first time GE and Halvorsen TEC have been jointly awarded a complete SRU order. However, the two companies have a long-standing business relationship and have collaborated on numerous offshore oil and gas projects.
"We are pleased to collaborate with GE on the SRU project to help Statoil protect its wells in the Johan Castberg field," says Svein Helge Pettersen, managing director of Halvorsen TEC, a subsidiary of Halvorsen Group AS. "We will be able to utilise our extensive engineering and fabrication capabilities in Norway to perform a majority of the SRU work and support the local economy. Components also will be sourced from Norway whenever possible."
"As offshore exploration and production moves to deeper waters, operators must protect their assets to maximise their return on investment," says Heiner Markhoff, president and CEO—GE Water & Process Technologies. "Sulphate removal is important to help ensure that production assets remain free of barium and strontium scale, which would precipitate if untreated seawater is injected. GE is teaming up with Halvorsen TEC to showcase how SRU technology can help Statoil and other oil and gas producers reduce their costs in increasingly tough-to-treat conditions."
The SRU will allow Statoil to inject approximately 2,000 cubic meters per hour of seawater at less than 20 parts per million of sulphate content and less than 20 parts per billion of oxygen. The SRU's injection capacity will be 1,188 cubic meters per hour at 6 bar. The GE-Halvorsen TEC SRU package will include:
GE's seawater sulphate reducing nanofilitration membranes, which eliminate nearly all sulphates from the injection seawater, remove divalent ions from the seawater to prevent barium and calcium scale formation while leaving monovalent ions like sodium and chloride to pass through the membranes.
GE's ZeeWeed* 700B horizontal ultrafiltration system, which has been widely adopted in the desalination industry and provides superior fine solids removal.
Deoxygenation membrane technology from 3M.
Full single-lift SRU.
In addition to the core technologies, GE is providing the process guarantee for the entire unit as well as an OnBoard* service package with remote monitoring of the entire seawater injection plant. GE's InSight* remote monitoring technology combines advanced data and analytics to help operators make better business decisions, eliminate unplanned downtime and reduce operating costs. The Johan Castberg floating production, storage and offloading unit's SRU will benefit from GE's analytics and process experts to ensure stable and optimal performance.
The FEED portion of the project will last six months. Equipment delivery is expected to take place mid-2019, while the first oil is expected to be produced in 2022. The project is divided into two phases: Aker will oversee FEED work during phase one, and the FPSO equipment will be fabricated and delivered during phase two.
* Trademark of General Electric Company; may be registered in one or more countries.