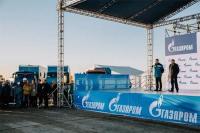 A festive ceremony dedicated to the start of the Amur gas processing plant (GPP) construction took place in the Svobodnensky District of the Amur Region.
Alexey Miller, Chairman of the Gazprom Management Committee, attended the ceremony.
Russian President Vladimir Putin commanded to launch the Amur GPP construction via a video call.
The Amur GPP will be Russia's major and one of the world's major gas processing facilities with the nominal capacity of up to 49 billion cubic meters of gas a year. The gas processing plant will also include a helium production block with the annual output of up to 60 million cubic meters – the most extensive one around the globe. The plant will be built using Linde (Germany) technologies.