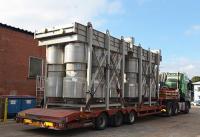 Broadland Radiators has built two custom-made, radiators to help cool generator sets destined for the Culzean gas field in the North Sea.
"The new radiators are used to cool technically complex, high specification Emergency (EDG) and Essential (ESG) generator sets designed specifically for the hostile North Sea environment," explains Dave Minshall, Area Sales Manager for Eureka Pumps in Norway, the company that designed and supplied the packages.
"It was essential to use an experienced and flexible radiator supplier familiar with the strict requirements needed in the Culzean gas field, who could deliver high quality, on time and on budget."
The EDG package developed by Eureka Pumps is powered by an AtEX rated (Zone 2) 12V4000P83 MTU engine with all ancillaries contained within an A60 container, measuring 8 x 5 x 4.9 metres. To cool the package, a custom-built radiator measuring over 4m wide was designed and manufactured by Broadland Radiators in Norwich, UK, to fit within the size restricted application.
"Not only does the radiator enable the engine to operate efficiently at the highest potential ambient temperature of 24.5 deg C, it helps to dissipate the heat from the exhaust gas cooler," says Darrell Roper, General Manager for Broadland Radiators. "Reducing the exhaust temperature to below 200° C (Temperature Class T3) helps meet the requirements of AtEX 2014/34/EU."
The ESG package was even larger measuring 9.8 x 5 x 5.3 metres and featuring a 20V4000P83 MTU engine. The radiators on both units are manufactured in mild steel with the cores solder dipped for the offshore environment. The finished coating is NORSOK paint specification M501.
The EDG and ESG packages are expected to begin operation in 2017 in the Culzean field which lies about 145 miles east of Aberdeen and is one of the largest gas fields discovered in the North Sea in more than a decade.