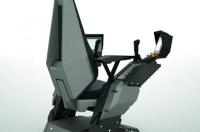 Alu Design has signed an initial two-year framework agreement with Oceaneering for the supply of an advanced, newly developed operator chair. Christened Commander, the high-specification chair has been designed to meet NORSOK S-002 and other stringent international standards.
The Kristiansand, Norway-based business, an established name in the chair and deck rails design and manufacturing segment, will now be marketing Commander to leading names throughout the maritime and energy industries. Crafted from lightweight yet robust aluminium, the chair has been developed to offer users the optimum in comfort, durability and functionality. Its adherence to NORSOK S-002 ensures it meets rigorous requirements regarding ergonomic and operational standards.
"Although this is a completely new concept, our agreement with Oceaneering means that it will quickly make its mark on the sector, providing the best possible working environment for users," comments Frank Robertsen, Alu Design's Marketing Director.