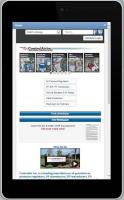 ControlAir, Inc., manufacturer of precision pneumatic and electro-pneumatic controls, has launched a new mobile responsive website, designed to optimise visually across any size screen, platform and orientation.  Content will automatically be adjusted to fit within the browser's window whether it be a laptop, iPad, iOS or Android device.
"The new responsive mobile website gives our customers an easier reading experience viewing product specifications while out in the field," says Mark Levine, ControlAir's Director of Sales and Marketing. "Engineers and technicians are often on-site when repairs are needed and not in front of a computer. With our new mobile enhanced website, anyone can view installation and maintenance instructions easily on any type platform."
The mobile website provides customers with easily accessible information such as product data sheets, product specifications, installation, operation and maintenance instructions, product drawings, certificates, FAQ's and local distributor information.