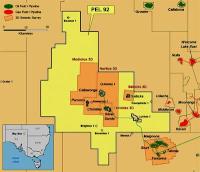 Cooper Energy Limited advises that Callawonga-9, an oil development well in PPL 220 on the western flank of the Cooper Basin, has penetrated at least 6 metres of gross oil column in the McKinlay Member and the Namur Sandstone, with at least 4 metres of net oil pay.
The well was drilled to a total depth of 1703.5 metres and has been cased and suspended for completion as an oil producer. Callawonga-9 will be linked into the existing Callawonga production facilities.
Cooper Energy Executive Director-Exploration and Production, Hector Gordon said 'Callawonga-9 completes this phase of our current PEL 92 drilling program with four successes from four wells, each of which has been completed as a future oil producer.' Previous wells in the program included the Windmill-2 appraisal well and the Butlers-7 and Butlers-8 development wells.