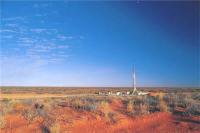 Cooper Energy Limited says that operations have been completed at Bunian-4 in the Tangai-Sukananti KSO, South Sumatra, Indonesia. The drilling rig has been released having cased and completed the well for production.
Temporary surface facilities are now being connected to enable a series of production tests to be conducted to evaluate the two primary hydrocarbon bearing zones encountered in the TRM3 and GRM Sandstones.
Additionally, testing will be carried out to determine the potential of the upper TRM Sands and to define the extent of the oil accumulation in the K1 Sandstone reservoir.
Cooper Energy Managing Director David Maxwell said "preliminary results from Bunian-4 are very encouraging for both reserves and production potential and we look forward to the results of the production tests to assist us in progressing the development plan for the field".