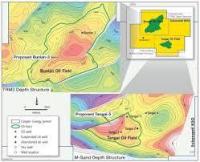 Cooper Energy Limited advises that the Bunian-3 development well is currently making preparations to side-track at 1,055 metres after having reached a total depth of 1,704 metres in the Talang Akar Formation. Hole conditions have precluded the running of wireline logs and production casing in the original borehole.
The primary target TRM-3 sand was intersected 15 metres higher than the adjacent Bunian-1 oil producing well. Bunian-1 was drilled in 1998 and initially tested at 1,585 barrels of oil per day. Bunian-1 has produced 993,000 barrels of oil and is currently producing at 191 barrels of oil per day.
In addition to the successful appraisal of the producing TRM-3 sand, two additional reservoirs, the TRM-1/2 and K1 sands, were also intersected high to Bunian-1 and are potentially hydrocarbon saturated.