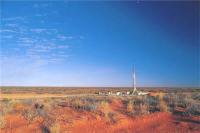 Cooper Energy Limited reports that Perlubie-3, an oil appraisal well located in PPL 247 on the Western Flank of the Cooper Basin encountered a sub-commercial 1.1 metre oil column in the primary target Namur Sandstone. The well has therefore been plugged and abandoned.
The well reached a total depth of 1,427 metres in the Late Jurassic Westbourne Formation.
The PEL 92 Joint Venture is planning a drilling programme commencing in late April / early May which comprises 1 development well and 1 appraisal well in the Callawonga Field together with an exploration well.