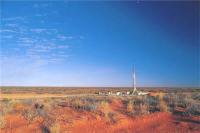 Cooper Energy Limited advises that drilling operations continue at the Bunian-4 oil appraisal/development well in the KSO Tangai-Sukananti Block, South Sumatra, Indonesia.
At 06:00 Indonesian local time today the well was at 1,323 metres preparing to acquire wireline logging data prior to installing and cementing the 9 5/8" intermediate casing. Once this is complete, the well will drill out in 8½" hole to penetrate the target reservoir section.
Further updates will be issued as significant milestones are reached.
Bunian-4 is an onshore directional well with a prognosed total depth of 1,712 metres. The Bunian structure is a four-way, fault bounded anticline defined by the 2011 Sukananti 3D seismic survey.