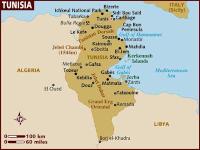 Cooper Energy Limited, as Operator and 30% joint venture interest-holder of the Bargou Permit offshore Tunisia advises that production testing of Hammamet West-3 is underway. The current operation is rigging up coiled tubing to allow placement of acid in the horizontal section of the wellbore.
Since the last report of 12 September, extensive hole-cleaning operations have been conducted to remove Lost Circulation Material (LCM) which had created a blockage in the 7 inch liner and open hole wellbore. The production test string was successfully run before commencing the clean-up flow operations. An initial acid treatment was performed and an initial clean-up flow for this phase was carried out.
Analysis of the clean-up flow has resulted in a decision to acid-stimulate the reservoir section through coiled tubing to facilitate flow of reservoir fluids from the reservoir to the surface.