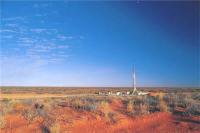 Cooper Energy says that the Tangai-3 workover operation in the Sukananti KSO in South Sumatra, Indonesia has been successful in restoring production to the well, which had been shut in by the field's previous operator in 1997.
Tangai-3 has produced on free flow at rates of 77-126 barrels of oil per day (bopd) since the workover for 5 consecutive days through a 15/64 inch choke, with an 80-85 percent water cut.
Well testing is continuing and it is expected that it will be connected by a 1,640 foot (500 meter) flowline to the existing Early Production Facility at Tangai-1 to enable production to continue.