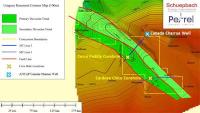 Petrel Energy Ltd and its partner and Operator, Schuepbach Energy International LLC (SEI), is pleased to announce that the Cardozo Chico corehole has confirmed the existence of oil generation in the Piedra Sola block. The Cardozo Chico is the shallower of two coreholes being drilled as part of a 2,000 metre corehole programme, to assess the hydrocarbon potential of PRL's and SEI's very large 3.5 million acre concessions in the Norte Basin, Uruguay. Both coreholes spudded in the Piedra Sola block in early September 2013.
Corehole 1: Cardozo Chico E-1
The Cardozo Chico E-1 corehole which is still coring ahead at 620m intersected a 10m laminated shale at a depth of 457m. While more detailed analysis will be undertaken of this and other core samples when it is shipped to the US, three initial samples were analysed for their geochemical properties. Total Organic Carbon content (TOC) averaged 3.3% with a maximum value of 6% and amorphous kerogen averaged 53% with a maximum value of 70%. Maturation, based on vitrinite reflectance measured 0.76 to 0.78, which is within the peak oil window, and strong streaming fluorescence observed in two of the three samples confirming oil generation.