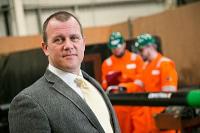 Coretrax, engineered servicing company for wellbore clean and abandonment, has radically expanded its Middle East presence by moving its Saudi Arabian operations into a custom built 130,000 square foot facility in Dammam.
The new purpose built work environment encompasses office space which can accommodate 150 personnel and a warehouse/training complex. A team of 50 will work from the base initially and, following a recruitment drive over the coming 12 months, this number is expected to grow to 95.
Kenny Murray, director and founder of Coretrax, says, "Having a strong base in Saudi Arabia is key to ensuring that we continue to meet the growing needs of our customers in the area. This expansion marks a major milestone for Coretrax, particularly in terms of expanding our international presence. We have invested a significant amount of time and hard work into our operations in the UAE and this regional growth is a direct reflection of our expertise, the quality of our products and our service offering. We've worked hard to get to this point and I'm incredibly proud of our dedicated and enthusiastic team, which we look forward to growing in the coming months."
"As well as our team, we feel it important to acknowledge our local partner, i-Energy who has been of huge support to us throughout our time in Saudi Arabia. Without this, we'd be unable to realise such a momentous achievement and this strategic affiliation will continue to be invaluable to our operations," continues Murray.
The base is one of five for Coretrax in the Middle East and, in response to its plans for continued growth in the region, to the company will exhibit this week at ADIPEC for the third consecutive year.
Elliot McDonough, country manager for Saudi Arabia at Coretrax says, "The Middle East has, and very much continues to be, a key region for our growth; our new facility is in recognition of this, as is our commitment to exhibiting at ADIPEC for the third time. Our previous ADIPEC experiences have been incredibly successful, providing us with a key opportunity to highlight and increase the awareness of our offerings."