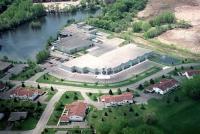 Cortec® Corporation has acquired the Croatian company CorteCros, which became a wholly owned subsidiary after signing a contract between Crosco, Oil Services Ltd. (daughter company of INA) and Cortec®. Cortec® previously owned 40% of the CorteCros company while 60% was in the hands of Crosco.
Cortec® Corporation is currently one of the fastest growing manufacturers of corrosion inhibitors in the world. According to the latest data from market researchers Freedonia Group, global demand for corrosion inhibitors will soon reach USD 7 billion. Organic corrosion inhibitor demand (including VpCIs) will account for nearly one-third of the market on a volume basis and one-half of the market on the basis of selling price by the year 2020. Cortec® was listed in the analysis among the most elite inhibitor manufacturers in the world and is the only one dedicated to research, development, and global marketing.
While Cortec's CEO Boris Miksic is thrilled to see his business grow on a global scale, he is especially eager to involve his homeland Croatia as much as possible. "This acquisition is an excellent opportunity for Croatia to strategically position itself as the centre of Europe for environmental technology of corrosion protection and grab a piece of pie on the fast-growing market of corrosion inhibitors. With the launch of EcoCortec® plant, which has just celebrated 10 years of successful business, I directed Croatia towards innovative solutions whose demand in the world is rapidly growing. Now with having CorteCros as part of our Cortec® family I want to strengthen cooperation with my homeland even more. My goal is to brand Croatia as a central point for new technologies in this part of the world!" says Miksic.