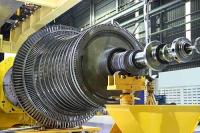 Preservation specialists at Cortec® work with asset owners in developing best in class, zero-defect, low-cost preservation solutions. Since many oil, gas, and power gen operations have warehouses full of spares that may have already rusted, critical spare preservation often starts with restoration. Non-toxic rust removers such as VpCI®-422 can effectively clean the rust off parts to restore them to usable condition on the same day. Biobased cleaners such as EcoLine® Cleaner Degreaser remove greases, oils, and other contaminants to prepare the parts for preservation.
Once the critical spares are rust free, an extensive range of Vapor phase Corrosion Inhibitor (VpCI®) rust preventives, foams, emitters, additives, and films allow the cost efficient preservation of equipment—whether on indoor racks or in open outdoor yards. Ease of removal renders this equipment operationally ready in a matter of minutes rather than days. Some Cortec® VpCI® water based treatments have even been known to outperform oil based protection. Spares may also benefit from temporary VpCI® coatings that can easily be removed by alkaline spray or may be unnoticeable enough to leave on for installation.
Spares that are effectively preserved with Cortec® VpCIs will be ready for rapid installation the next time a critical operating part fails. Instead of continuing to lose millions of dollars while plant operation is suspended and personnel scramble to deal with a rusty replacement part, workers can simply unwrap the VpCI®-preserved critical spare and install it as quickly as a completely new part. This not only saves expensive downtime losses but also lowers labour and preservation costs through more efficient protective materials. In order to avoid massive operational losses and headaches like these, it is definitely worth sparing a thought for critical spares.