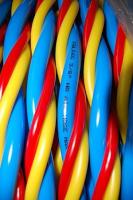 Customised diving umbilical, subsea cable and rope specialist Cortland Company has announced a major new deal with Amron International as a distributor in the US.
Amron will be responsible for distributing surface dive umbilicals, dive hoses and cables for Cortland in the US market, serving major oil and gas, marine, defence, and subsea projects in the North America region.
The agreement strengthens Houston-based Cortland's share of the commercial and military surface diving markets in an important growth area.
Marco A. Cano, US Sales Manager at Cortland, says, "We had been seeking to grow our distribution network in these markets for some time and are now collaborating with an ideal partner. We are extremely excited to be working with Amron International to support our business in the US commercial and military diving markets."
"Amron is highly regarded in the industry for their quick responses, technical expertise, and focus on customer support. These are all key attributes that we look for in a distributor of our products. We view this agreement more than just an alignment in interests but as a partnership in serving the diving market needs. Cortland is looking forward to building our new partnership with Amron throughout 2017 and serving our customers with the expertise, resources and efficiency they expect," adds Cano.
Mike Malone, Vice-President, Sales and Marketing at Amron International, says, "We're pleased to become an extension of Cortland's diverse and respected business. Cortland's umbilicals are highly rated in the commercial and military diving communities, and are approved by the US Navy. We have great confidence in the success of this agreement and at Amron International I know we have the energy, people and contacts to reach our objectives. We already have Cortland's equipment in stock ready for distribution."