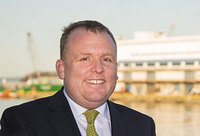 Corvus Energy has announced the appointment of Geir Bjørkeli as its new Chief Executive Officer (CEO).
"I am really excited to join a company that is the market leader in marine energy storage," says Bjørkeli. "I look forward to working alongside Corvus employees and in close cooperation with the company's customers to develop the company and its products and services even further."
Bjørkeli was previously Director of Norway for the Dutch company Huisman, and established the company's Norwegian presence for offshore construction equipment solutions. Bjørkeli will remain based in Bergen, Norway.
Prior to joining Huisman, Bjørkeli was a design engineer with the ship designer and shipbuilder Ulstein. He held several positions with Rolls-Royce, including VP Sales for North East Asia and Managing Director of Rolls-Royce Marine Japan, during which time he was based in Korea for six years and Japan for two years. Subsequently, he was appointed VP Systems Sales & Marketing Campaigns with global responsibility for Rolls-Royce systems in merchant vessels.
Bjørkeli is a mechanical engineer by training from Western Norway University of Applied Science, and holds an MBA in Shipping, Offshore and Finance at BI Norwegian School of Management and Nanyang Technical University, Singapore.
"Geir has impressed us with his extensive technical and commercial experience in internationally-traded industrial and offshore equipment," says Nick Andrews, Chairman of the Board of Corvus Energy. "Geir has the experience and the drive needed to guide Corvus through the company's current period of high international growth, and we are confident that he will be a strong addition to the Corvus team."
"At this time, we would also like to thank our outgoing CEO, Andrew Morden, for his leadership and contribution to Corvus' success. During his tenure, Corvus grew its position as the global leader in the rapidly expanding marine lithium ion battery market, and has been able to attract a strong base of world class investors, including Statoil, Norske Hydro and the BW Group. With the hiring of Geir, and the recent investment by Norske Hydro, Corvus is well-positioned to take advantage of very strong growth in its markets."