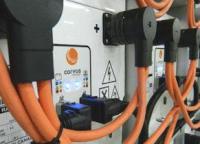 Corvus Energy is announcing new product and service offerings: 1) Turn-key Containerized ESS and 2) an Array of Services.
Containerized ESS provides an option for vessels with insufficient room below decks for a battery room to have a practical "Plug & Play" alternative. This scalable solution is ideally suited for retrofits and can deliver a custom-tailored ESS specifically designed for each vessel's operational profile. This solution is compatible with Corvus air-cooled or liquid-cooled technology and meets all Class requirements for ESS and container.
"Corvus has developed unique competencies around ESS cooling and thermal event management. We incorporate this knowledge into our new Containerized Energy Storage System." says Neil Lang, Corvus' Chief Operating Officer.