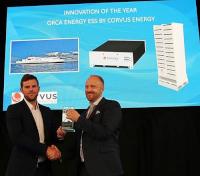 Corvus Energy has been awarded both "Supplier of the Year" and "Innovation of the Year" at the 2017 Electric & Hybrid Marine Awards being held at the Electric & Hybrid Marine World Expo. This is the third consecutive year that Corvus has received the Supplier of the Year award and a first time win for Innovation of the Year. The award recipients are decided up on by a panel of highly regarded industry experts.
"Battery technology is at the heart of electric and hybrid marine propulsion technology. Corvus is a true leader in this area and its growth and achievements in 2016 serve as a reminder of how important this company continues to be," says awards panel judge Martyn Lasek, editor, Ship & Bunker.
The awards were presented to Willie Wagen, Corvus Energy Global VP of Sales & Marketing and Managing Director of Europe, on the final day of another very successful Electric & Hybrid Marine Expo taking place in Amsterdam. "The team at Corvus is very pleased to have been selected once again as Supplier of the Year and extremely proud to have also been awarded Innovation of the Year for the industry leading Orca ESS", says Wagen. Adding, "over a year ago Corvus set out to design and develop the world's best energy storage system. The result of that was Orca ESS, the safest, highest performing, and most cost effective ESS for all-electric and hybrid applications. Orca ESS is accelerating the transition to electrification for many operators and ship owners. No other firm understands this technology and industry better than Corvus and we have the greatest number of installations & upcoming projects to prove it."
Further recognition from awards judges: "Corvus' exceptional growth and high spending on R&D merit recognition for a third consecutive year as the company's innovative solutions, and especially the Orca ESS, gain rapid acceptance among customers" – Jack O'Connell, senior editor, The Maritime Executive.
Following the successful launch of Orca ESS at the Electric & Hybrid Marine World Expo one year ago, Corvus has won over 2 dozen new projects totalling over 15MWh that will utilise Orca ESS. In total, Corvus Energy has deployed 80+ installations with over 43MWh installed and exceeding 1 million operating hours. Corvus has unsurpassed experience and knowledge that enables revolutionary innovation.
"Corvus has shown again why it is at the forefront of one of the fastest-growing maritime sectors. An impressive performance that bodes well for the future for the company," concludes Rich Miller, managing editor, Professional Mariner and American Ship Review.