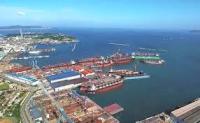 COSCO Nantong has informed the Company that on 9 December 2014, it has received a notice from the CVA managers of ATP UK acknowledging COSCO Nantong's total debt claim and on 11 December 2014, COSCO Nantong has received an initial part payment of approximately US$5 million.
While COSCO Nantong has been making efforts to find a buyer for the Octabuoy and several potential buyers had previously expressed interest, COSCO Nantong has so far not entered into any agreement for the sale.
The steep fall in crude oil prices over recent months has had an adverse impact on the global offshore marine industry. This has made it even more difficult to secure a buyer for the Octabuoy as industry players have cut back even further on new orders.