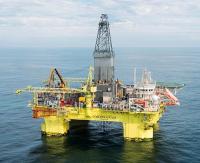 COSLInnovator has been a awarded a contract for drilling of one well with the addition of an option of eight wells for Lundin Norway AS. The contract, which is subject to partner and board approval, will commence in March 2018.
"This is another fantastic news to give our organisation. We are proud and humbled to be trusted by one of the most expansive companies on the NCS, and look forward to developing a strong and long-term relationship with Lundin", says Jorgen Arnesen, CEO of COSL Drilling Europe.
Last week, COSL Drilling Europe announced a letter of intent with Nexen Petroleum for the use of COSLPioneer on the British shelf in the North Sea. This contract will commence in the first quarter of 2018. The two rigs, which are currently in warm stack at CCB outside of Bergen, are modern sixth generation DP3 rigs.
"We now have two drilling rigs that will be started and staffed during the next six to eight months. This is good news for our own organisation, but also for the rest of the industry", Arnesen says.
"Our rigs are identical in design and have all delivered very good and consistent operations. We find that they are attractive in today's marked. This is due to an increased demand for modern and more efficient rigs in both the NCS and British sector. Last year was actually the first year the majority of contracted units were modern unites, and we believe this development to continue," Arnesen adds.