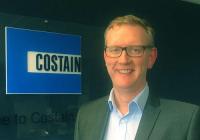 Technology-based engineering solutions provider, Costain has announced the appointment of Tim Martin as Director of Front End & Advisory Services within its oil and gas team.
Martin joins Costain from Ramboll, where he was the Managing Director. As a proponent of industry improvement and transformation throughout his 20-year career within the sector, Tim has directed the delivery of multiple innovative solutions for client organisations and is a Member of the Oil & Gas Authority (OGA) Asset Stewardship Board.
His achievements include a 50-60% CAPEX reduction for a particular UKCS small pool tie back challenge, and delivering a 10% ABEX reduction on an ongoing decommissioning program. Tim also has a significant track record of unlocking sub-economic projects.
In his new role, Martin will focus on combining Costain's onshore and offshore capabilities in the front end to deliver value across the hydrocarbon value chain. By applying its diverse experience and track record in the feasibility and concept engineering phases, Costain aims to help both existing and new clients in the development of their investment propositions.
Of his appointment, Martin says, "I am excited to be joining such a dynamic team at Costain and look forward to working with them to further develop their already extensive front end and advisory services. Our innovative and technology-based approach to front end delivery will not only provide an increase in our client's return on investment potential, but will also position us alongside our clients from the outset to support them in driving efficient execution and maximising value throughout the project lifecycle."
Gerard Shore, Oil and Gas Sector Director at Costain says, "Tim's wealth of experience and industry knowledge will make him a key addition to the team. With our track record and understanding of the value that can be added by identifying innovative solutions in the front end of projects, we sought to fill this role with somebody who fist Costain's ethos of innovation and collaborative value-adding client delivery."
"It is very fortunate that we were able to find someone of Tim's calibre to fill this crucial role. I'm confident that Tim will play an integral role in providing and implementing high quality solutions to continue to meet the needs of our clients in maximising return on investment from their existing assets and new developments both offshore and onshore," adds Shore.