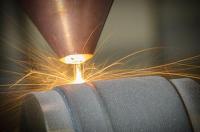 The role that the industrial application of 3D printing could play in transforming the production of bespoke, high-value, low-volume manufacturing in the oil and gas industry will be the focus for an event in Aberdeen in March.
The additive manufacturing (AM) seminar, organised by the Oil & Gas Innovation Centre (OGIC) and TWI, will feature industrial case studies and presentations on design, materials and process development, component manufacture, validation techniques and certification routes.
Additive manufacturing (AM) is the industrial application of 3D printing, the layer-by-layer construction of a part from a 3D model created using computer-aided design software.
The seminar on 21 March will bring together stakeholders in advanced manufacturing technologies and services in an open forum to discuss future opportunities, benefits and challenges – and crucially how the oil and gas industry can robustly adopt AM technologies.
OGIC is an innovation support organisation that helps companies to access research and development capability within Scotland's university community. By matching companies with the appropriate academic partners and co-funding projects, OGIC accelerates innovation to address the oil and gas industry's exploration, production and decommissioning challenges. OGIC's work directly contributes to the twin goals of maximising economic recovery from the UK continental shelf and supporting the development of the supply chain through bringing new products and services to the UK and international markets.
TWI specialises in innovation, knowledge transfer and in solving problems across all aspects of manufacturing, fabrication and whole-life integrity management. Its experience in supplying services and innovative solutions for the oil and gas sector stems back to the beginning of the North Sea oil industry. In metal AM, it works with a diverse range of metals in both wire and powder form, fusing them together using lasers, electron beams and electric arcs. TWI offers comprehensive AM business solutions from initial feasibility assessment into full rate production.
Additive manufacturing represents a step change in the flexibility of production, allowing businesses to design and make better products, enter new markets and develop new business models, react more quickly to changing demands, and explore the possibilities of digital manufacturing.
Ian Phillips, chief executive of OGIC, says, "The opportunities which metal additive manufacturing (AM) present for innovation within the oil and gas industry have yet to be fully realised. The rapid growth of the technology has seen it used for industrial production in markets including medical, dental, aerospace, automotive, consumer products and oil and gas. Metal AM technologies benefit these sectors by offering design freedom and a correspondingly increased capacity for innovation and reduced time-to-market in product development."
"TWI has been supporting this transformative technology's growth and acting as a key protagonist in its industrialisation for the last 25 years. This seminar will offer important insights on design, materials and process development, component manufacture, validation techniques and certification routes," adds Phillips.
The "Additive Manufacturing – an oil & gas revolution?" seminar will take place on Tuesday, 21 March. To register visit the events section of the www.ogic.co.uk website.