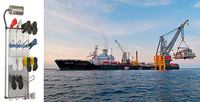 Seaway Heavy Lifting chose to outfit the Stanislav Yudin with Pronomar's boot dryers. This Light Ice Class crane vessel is ideal for a broad range of offshore installation tasks. The offshore contractor is currently using the vessel for the installation of piles for jacket foundations at the 580MW Beatrice offshore wind farm, located on the North Western point of the Smith Bank.
For Seaway Heavy Lifting, safety is of paramount importance as they intend to look after all people who are involved in their projects. Especially on offshore platforms, bad weather conditions can result in dangerous and unpleasant situations for employees.
The drying systems, entirely made of stainless steel, guarantee multiple advantages for Seaway Heavy Lifting and their crew. Dry clothes are valuable for employees working in a cold and wet environment, as warm and dry outfits increase staff motivation and health. Healthier workers are more focused on their jobs and more alert to safety risks, immediately creating the potential to reduce the number of accidents. With Pronomar's dryers onboard, workers are less likely to catch colds. In the long run, many chronic diseases are caused by wearing wet clothes and in turn occupational diseases lead to costly down-time in organisations.
Another major factor that leads to a faster payback time of the drying equipment is that if the boots, shoes and gloves are always kept dry, their lifespan is prolonged considerably (by about 2-3 times).