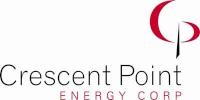 Crescent Point Energy Corp. reports that the previously announced acquisition of Coral Hill Energy Ltd. (Coral Hill) closed.
As a result, Crescent Point has acquired productive capacity of approximately 3,200 boe/d of high-netback light oil and more than 500 net sections of land.
The Coral Hill acquisition consolidates the Company's current position in the Swan Hills Beaverhill Lake resource play and enhances the long-term strategic value of its assets by providing the Company with full operatorship, control over pace of development and an increased position in the core of the play.