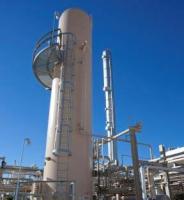 Crestwood Midstream Partners LP announced further expansion of its 'Willow Lake Project,' located in the Permian Delaware Basin, which includes the conversion of a portion of its Las Animas natural gas gathering system into rich gas service and the construction of an initial cryogenic natural gas processing plant.
The Willow Lake Project, located in Eddy County, New Mexico, was originated in 2013 (Phase 1) through the conversion of an existing Crestwood gathering pipeline and installation of natural gas liquids field separation equipment to support the drilling efforts of Legend Natural Gas III, LP, a subsidiary of Legend Production Holdings, LLC ('Legend'), a Riverstone Holdings LLC portfolio company, targeting the Second Bone Spring formation along with other producers in the region.
Based on Legend's successful 2013 drilling program, Crestwood and Legend have entered into a 10 year, fixed-fee gas gathering and processing agreement covering an area of mutual interest of more than 107,000 acres in the Willow Lake area. Additionally, Crestwood has purchased Legend's existing gas gathering system which is being integrated into Crestwood's existing footprint.