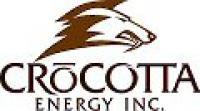 Crocotta Energy Inc. produced approximately 9,900 boepd for the last two weeks of December 2013 and achieved its exit guidance rate of 10,500 boepd during that period. Production with extended tests but not on-stream included approximately 1,400 boepd of which 400 boepd is at Edson, AB and 1,000 boepd is at Dawson, BC.
The Edson production will be on-stream by mid-January but the Dawson well is not expected to be on production until the summer due to third party facility constraints. Montney production through Crocotta facilities will also be constrained during Q114 until regulatory approvals are received to install additional compression. We estimate this will affect Q114 production by approximately 400 boepd.
Production is estimated to be 9,200 boepd for Q413 and average 8,715 boepd for 2013. The 2013 average represents a 26% increase from the 2012 average rate of 6,911 boepd.