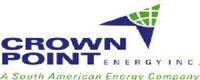 Crown Point Energy Inc. announce that a drilling contract has been signed with San Antonio International to provide a drilling rig for our initial ten well drilling program in Tierra del Fuego (25.78% Working Interest).
The drilling rig is expected to arrive in Tierra del Fuego in March with drilling operations on the Las Violetas concession expected to commence in early April. The term of the contract is one year with provisions for extending the term.
The initial ten well program on the Las Violetas concession will consist of eight development wells in the Los Flamencos gas pool and two exploration wells, one on the Puesto Quince prospect and another near the southern San Luis natural gas pool. All of the drilling locations have been fully imaged with 3-d seismic.