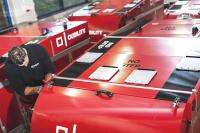 Cubility AS has signed a multi million US$ deal to provide the MudCube® solution to Norwegian operator, Statoil for installation on the Johan Sverdrup field.
The MudCube is the industry's first compact solids control system that eliminates the traditional process of shaking fluid and solids, delivering improved drilling efficiencies, lower mud consumption, reduced waste volumes and improved HSE.
"We are delighted that Cubility and our MudCube solution is to play such an important role on one of the most important industrial projects in Norway over the next 50 years – something that is testament to our long-term partnership and collaboration with Statoil," said Cubility CEO, Even Gjesdal.
He continues: "The need to improve operational efficiencies, monitor the bottom line, and adhere to stringent environmental and HSE controls has never been more important than in drilling operations. On all counts Cubility and the MudCube deliver."