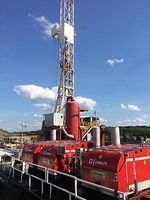 Cubility AS, a provider of solids control solutions that improve drilling efficiency, solids control and HSE around the drilling process, has announced two exclusive distribution partnerships with Calgary-based New Tech Solids Inc and Houston-based Stage 3 Separation.
The distribution agreements are to sell and support Cubility's MudCube® solution, the industry's first compact, vacuum based solids control system, and will see a substantial fleet of MudCubes entering the North American land drilling market over the next few years in response to increased demand for improved drilling efficiencies, reduced waste and lower costs.
The MudCube is an enclosed filtration system that vacuums drilling fluids through a rotating filter belt using high airflow to separate the cuttings from the fluid, leading to as much as 80% more mud recovered than competing solutions; better quality drilling fluid and improved drilling efficiencies; and a reduction in the volumes of drilling fluid lost and waste generated.
The MudCube has already been successfully deployed for Murphy Oil and Shell in Canada and multiple operators in both the Permian and Eagle Ford. Success has meant that many of these operators are also evaluating more extensive use of the MudCube system across multiple onshore basins.
Even Gjesdal, CEO of Cubility says, "As North American onshore plays continue to ramp up operations, the MudCube will perform a vital role in keeping costs down through drilling and mud efficiencies, and the cost effective disposal of waste. In the case of onshore drilling pads, implementing our technology can have an impact on cost budgets almost immediately."
He continues: "That's why our partnerships with Stage 3 and New Tech Solids are so important. Our recent successful deployments with major onshore operators further validates our value proposition on land and paves the way for the MudCube to be part of the North American solids control market for many years to come."
Stage 3 Separation has over 250 employees servicing over 70 rigs in the Greater Gulf Coast, the Permian Basin, and Oklahoma, and more than 50 customers, including EOG, Conoco Philips, BP, Concho, Occidental and Cimarex. The company specialises in high quality solids control equipment and services and the partnership with Cubility will result in a significant amount of MudCubes committed to US customers over the next few years.
Fred Lausen, Stage 3 Separation CEO continues, "This partnership with Cubility reaffirms Stage 3 Separation's commitment to providing the very best solutions to our customer base. We look forward to working with Cubility and US operators to provide optimal wellsite performance and ever greater value and levels of sophistication to the filtration and solids control marketplace."
New Tech Solids Inc will be the sole Canadian distributor of the MudCube. The system's conveyor dryer system alleviates operator concerns over moisture on solids, making it easier to dispose of cuttings under Drilling Waste Management Directive 50. The Directive, approved by the Alberta Energy Regulator in July 2016, sets out the requirements for the treatment and disposal of drilling waste generated in Alberta.
Says Brad Banister, President of New Tech Solids: "With ever increasing environmental regulations, how operators handle their waste generated to meet these regulatory obligations and reduce costs will be essential to future profitability. That's why we believe the MudCube is such a 'game changer' – providing a cost effective but efficient means of managing and disposing drilling waste."
To date, MudCubes have been installed on North Sea, Middle East, Far East, South American and North American drilling sites both offshore and onshore. In 2016, Cubility partnered with EQT Corporation to prove the technology in US onshore operations. EQT is a US-based company that has become one of the fastest growing natural gas producers in the Marcellus Shale.