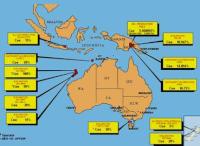 Cue Energy Resources Ltd advises that the Manaia-2 well is at a depth of 189m MDRT at 0600 hours local time on 6 September 2013. Current operations are preparing to drill ahead in 16' hole. Since the well spud on 1st September, 36' hole has been drilled to 189m MDRT and the 30' conductor pipe has been run and cemented without incident.
Manaia-2 is located in PMP 38160 in the offshore Taranaki Basin, New Zealand. The well is operated by OMV New Zealand Ltd and is being drilled from the semi-submersible drilling rig 'Kan Tan IV'.
The well is located 1.25 km north of Maui-4 (which discovered the Manaia field) and 6 km to the southwest of the Maari Field well head platform. The well has a planned total depth of 2,850m and drilling is expected to take about 30 days. The undeveloped Moki and Farewell Formation reservoirs that will be appraised by Manaia-2 have the potential to add 11 million barrels of gross reserves to the Manaia field.