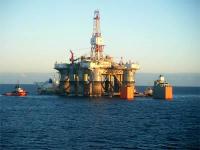 Cue Energy Resources Ltd (Cue) advises that at 0600 hours local time on 15 November 2013 the operator was setting plugs and abandoning Manaia-2/2A as planned.
Since the previous report, the 8 ½" open hole wireline logging was concluded. Following abandonment of the 8 ½" section of the well, the 9 5/8" casing was perforated at three levels within the deeper portions of the Moki Formation and a wireline formation tester was then used to acquire additional fluid samples of the formation.
The results from the Mangahewa Formation are in line with expectations. The upper part of the Mangahewa Formation is currently being produced by an extended reach well drilled from the Maari Field well head platform.
One of the goals of this Manaia well was to acquire data throughout the Mangahewa Formation in order to appraise the potential of its' lower levels and contribute to optimization of an additional development well that is planned for this formation.