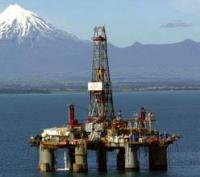 Cue Energy Resources Ltd (Cue) advises that the Manaia-2 well is at a depth of 754m MDRT at 0600 hours local time on 27 September 2013. Current operations are preparing to drill ahead in 12¼" x 13½" hole. Mechanical problems with the rig equipment and adverse weather conditions have delayed drilling since the last report.
Manaia-2 is located in PMP 38160 in the offshore Taranaki Basin. The well is operated by OMV New Zealand Ltd and is being drilled from the semi-submersible drilling rig 'Kan Tan IV'.
The well is located 1.25 km north of Maui-4 (which discovered the Manaia field) and 6 km to the southwest of the Maari Field well head platform. The well has a planned total depth of 2,850m and drilling is expected to take about 30 days. The undeveloped Moki and Farewell Formation reservoirs that will be appraised by Manaia-2 have the potential to add 11 million barrels of gross reserves to the Manaia field.