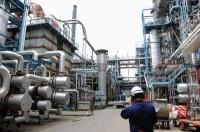 A breakthrough in coatings for the corrosion under insulation (CUI) petrochemical market has been unveiled for Europe, Middle East and Africa by specialist manufacturer Sherwin-Williams Protective & Marine Coatings.
With high heat resistance up to 650ºC, the Heat-flex High-Temp 1200 is already having widely-acclaimed success in America because of its effective applications to carbon steel or stainless steel - either insulated or uninsulated - in a variety of uses.
Now the next generation product for the petrochemical market is available in Europe, Middle East and African markets manufactured from the Sherwin-Williams plant at Bolton, Greater Manchester.
The project applications include pipes, tanks, vessels and stacks in offshore and marine installations, power plants, refineries and major chemical industry facilities.