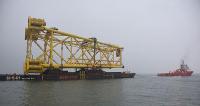 Heerema Fabrication Group (HFG) has completed construction of the Culzean jackets for client Maersk Oil North Sea UK Limited. At Heerema Vlissingen, one of two production locations of HFG in the Netherlands, the jacket for the central processing facilities platform (CPF) set sail on 28 June and the jacket for the utility & living quarter platform (ULQ)followed on 7 July. Their final destination is the High Pressure High Temperature Culzean development field in the British sector of the North Sea.
After the successful execution of the Procurement & Construction contract for the Culzean wellhead platform jacket, the wellhead access deck and the access ways, Maersk Oil awarded HFG a second Culzean project in September 2015: the Engineering, Procurement & Construction of the two jackets. Fabrication started in January 2016 and all locations of HFG were involved. HFG Engineering was responsible for the engineering of the grillage and sea fastening for the jackets and piles. HFG Polska built the jacket appurtenances and pre-fabricated the grillages and sea fastening. The fabrication of two pile sleeve clusters of the CPF jacket and the pre-assembly of half of the ULQ jacket leg parts were executed by Heerema Zwijndrecht, while the four pile sleeve clusters of the ULQ jacket and two pile sleeve clusters of the CPF jacket were constructed by Heerema Hartlepool. At the Vlissingen yard, the two jackets were fabricated and assembled. Both jackets are approximately 115 meters high and have a foot print of 38 x 38 meters. The CPF jacket has a top of 24 x 30 meters and a weight of 8,388 metric tonnes. The top of the ULQ jacket is 24 x 24 meters and this jacket weighs 7,181 metric tonnes.
"Thanks to the well-oiled cooperation between our specialised and integrated facilities in Hartlepool, Zwijndrecht, Opole and Vlissingen which combined their capacities for building two jackets together we managed to deliver a product that meets the highest quality standards," states Koos-Jan van Brouwershaven, CEO of HFG. "We are proud of the accomplishment we have achieved together with Maersk Oil. We share the philosophy that a successful execution of the job requires close collaboration."
The Culzean field – discovered in 2008 – is situated in the British sector of the Central North Sea approximately 250 kilometres to the east of Aberdeen in license block 22/25a. The water depth is approximately 88 metres and the reservoir is located around 4,300 metres below sea level. The overall Culzean development consists of a wellhead platform, a central processing facility platform and a separate utilities and living quarter platform. The platforms will be interconnected by two bridges, each approximately 100 meters in length. First gas is expected in 2019. The Culzean project has the potential to meet around 5% of the British gas consumption in 2020/21.