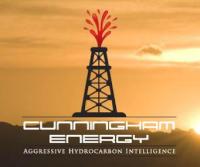 Cunningham Energy LLC has plans for four additional new shallow horizontal oil wells to be drilled in Clay County, West Virginia. The newly planned horizontal program will be drilled from the 'Lion's Paw' pad, consisting of four wells surveyed with a specified measured depth ('MD') ranging from 4900' to 5600' plus feet and vertical depths ('TVD') of 2150' plus feet.
All four 'Lion's Paw' horizontal wells are targeting oil in the Big Injun Sand formation in Union District of Clay County.
Cunningham Energy also plans to utilize one of the company's three Speedstar 185 top drive drilling rigs in conjunction with these new wells. Each well bore on the Lion's Paw Pad has been planned to be completed with multiple frac stages with varying spacing dependent on future wireline data.